Follower Question: "I have a pair of pink cowgirl boots which are pretty femme fabulous, but I don't know how to wear them without looking like Taylor Swift. Can you do a post on how to dress cowgirl boots in a new or interesting way?"
Answer…
This girl is doing something right.
She is wearing a girly dress with cowboy boots BUT she is not wearing her hair in loose falling curls. Mess up your hair a bit and wear it shaggy, so you don't look like a coiffed country star.
Layer it up. If you wear your cowboy boots with a pair of Daisy Duke cutoff jean shorts you WILL look like Jessica Simpson. (I don't approve of this girl's owl necklace though, just to clarify, enough with the owls already).
Add a hard edged element to the look. A prissy dress with bare legs and pink boots takes you into Raelynn territory, so again, rough it up a bit.
Legwear. These over-the-knee socks sell the boots.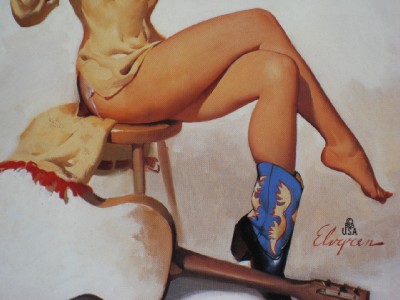 Hope that helps!
(Source: fuckyeahfemmes.com)